#projecthawaii #projecthawaiiinc #homelessinhawaii #homelesskeiki #homelessinparadise #giversgain #donatetocharity #childrenscharity #hawaiicharity #makingadifference #childreninpoverty #homelesskeiki #homelesskeikiinmaui #homelesskeikiinhawaii #homelesskeikionoahu #homelesskeikibigisland #homelesskeikiinhawaii #homeless #teensonthestreets #givetocharity #topratednonprofit #besthawaiicharity #bestchildrenscharity #awardwinningcharity
Helping Homeless Keiki Succeed
Frequently Asked Questions
Homelessness in Hawai'i
How many homeless children are in Hawai'i? How many homeless children does Project Hawai'i, Inc. work with annually?
---
Point of Contact Statistics (a government counting agencys) show that there are approx. 23,000 homeless children on all the islands comprising the state of Hawai'i. The AVERAGE age of a homeless PERSON is just 5 years old and there are approx. 1,500 homeless children UNDER the age of 5. The homeless crisis is NOT just the adults and veterans of our state. It is the children! Project Hawai'i provides services to approx 1,600 individual homeless children throughout the year on the 3 islands. What does that mean?
Project Hawai'i' will reach and make a positive impact on 1,600 homeless keikis each year when adding up all of our heartfelt programs throughout the year. This does not mean that we provide 1,600 children services at the same time. It is difficult to have exact numbers as there are so many external factors that affect our homeless population. We conduct monthly outreach and will find new homeless children, lose track of some due to encampments being swept and so on, but will never stop looking for these precious keiki as they depend on Project Hawai'i and the care we provide. Our current enrollment numbers of 2021
Big Island 408 children
Maui 157 children
O'ahu 686 children
---
What are the MAIN Reasons for Homelessness? These answers are more focused on the population of the homeless we provide full-time services to. Not in general population.
---
This is a very difficult question that does not have easy answers. There are stereotypical homeless situations, but we deal with the children and families that don't always fall with within those stereotypes. Please use this with extreme caution and consideration AND WITH RESPECT for the children's sake. I love these children and only wish the best for them. These following answers can be taken out of content and truly hurt them...so please use with caution. In my opinion from years of experience and working with these families across the islands....my number one reason for the homelessness is LACK OF EDUCATION, socially, emotionally and educationally. What does that mean? To begin with, most of the parents are illiterate and cannot even fill out a simple application. Socially, they don't have the "normal" social and behavioral skills to participate in the "real" world such as hold down a job, have mainstream friends, or live a lifestyle that would be considered socially accepted. And emotionally/mentally, these families are not equipped to take on the mental challenges of everyday life. THIS STATE has failed these families from the parents down to the child due to lack of proper care for these families before this situation happened. It comes down to the basics. If a person doesn't have the basic life skills needed to survive, hold down a job, skills to pay simple bills, concept of budgeting, and so forth....they cannot under any circumstances change their path from the track of homelessness. So, people say, there isn't enough affordable housing, or there aren't enough jobs, or they are on drugs, the list goes on and on, BUT THAT IS NOT THE CASE! The families we provide service to are not even close to being ready for those responsibilities. So without the proper life and social skills, money won't help, free housing won't help, nor would a job help... It has to start with education. ​ ​Because we work from the children up... meaning we work to help the children develop the skills they need to succeed and escape their cycle. We provide the social skills, the educational resources and support and we provide the opportunity to participate in the "real world opportunities", such as sports, field trips, scholarship programs, etc. Providing the basic skills through our programs help them develop and break this cycle. Please feel free to contact us to use any of our information or photos to help promote the awareness and fundraising efforts towards our programs. All material is copyright protected.
---
---
Project Hawai'i, Inc.
The How, Why and When Project Hawai'i, Inc. established in Hawai'i.
---
WHEN: Project Hawai'i Inc. started on the Big Island in 2002 in a small encampment called Pu'uMaile, and then expanded to O'ahu in 2006 and to Maui in 2020. Project Hawai'i was formally Christmas Wish Program, Inc. and began in the California bay area in 1988. ​​ ​ HOW: Project Hawai'i was developed by a few dedicated volunteers who truly wish to see the poverty end among the homeless children on our islands. We have all the proper forms, filings, and legal standing to be a nonprofit. We do not have paid staff or government funding. We rely on the aloha spirit of our public donations to support our keiki needs. ​ ​ WHY: Co-founder of Project Hawai'i Magin Patrick responds to this question: "taking care of the homeless children is what she was truly born to do". "It is hard to explain. I have been asked about my degree, if I went to school, or why is this important; and it is truly my life mission. My "kuleana" here on earth. So, like a musician, or an artist, or someone who just does what their soul feels, that is what it is to me. I started this program at the age of 16 on the mainland." The program was created to fill all the gaps and shortfalls of the current programs in place. A wise man once said, "Find a need and fill it" The need to have an amazing program that works one on one with each individuals needs to help them escape the cycle of poverty is needed, and Project Hawai'i, Inc. is dedicated to fill it.
---
How is Project Hawai'i, Inc. Funded?
---
Project Hawai'i, Inc. is funded by public donations, community support, foundation award grants, fundraising and other corporate or commany partnerships. We participate in the community events, charity walks, bake sales, car washes, and other community fundraisers that allow the community to make donations. In addition, Project Hawai'i, Inc. has been honored to receive so many awards for our programs or actions. These awards are very sustaining to our programs and behind the scenes funds needed. We also partner with groups, clubs, companies to fullfil their giving program needs. We love participating in all of the fundraising events from bowl a thons, radio thons, silent auctions, company promotions, etc. Project Hawai'i, Inc. is NOT FUNDED by an government, state or county program. We choose to be publicly supported to reach our goals without the restrictions or red tape that the government imposes on actually helping.
---
How can a nonprofit be run by volunteers be successful? Is it stable?
---
Project Hawai'i, Inc. was created to be fully staffed and run by volunteers. Our volunteers are dedicated to a higher purpose of giving back and making a difference. Our volunteers find sharing their passion and expertise with the homeless children is part of their lifestyle. Our volunteers typically take on a project or program to head, and they make it their own. They take on the responsibility to assure the program succeeds for the overall success of the children served.
Many of volunteers have been with us over a decade, somes since the beginning and some are even clients who have succeeded through the program. Everyone who takes part in this agency truly cares for the betterment of the children.
---
Who are the children Project Hawai'i, Inc. provides services to? Where are they located?
---
We provide year round services to children under the age of 18 on the islands of Maui, O'ahu and the Big Island who live in poverty stricken, substandard make-shift housing situations. This can include cars, tents, abandoned structures, and other non traditional housing options. These children live without running water, electricity, and basic life needs. We do not provide services to children who live in shelters. Those facilities have government and other support to provide the needed resources for the families. We choose to focus our resources on the homeless keiki as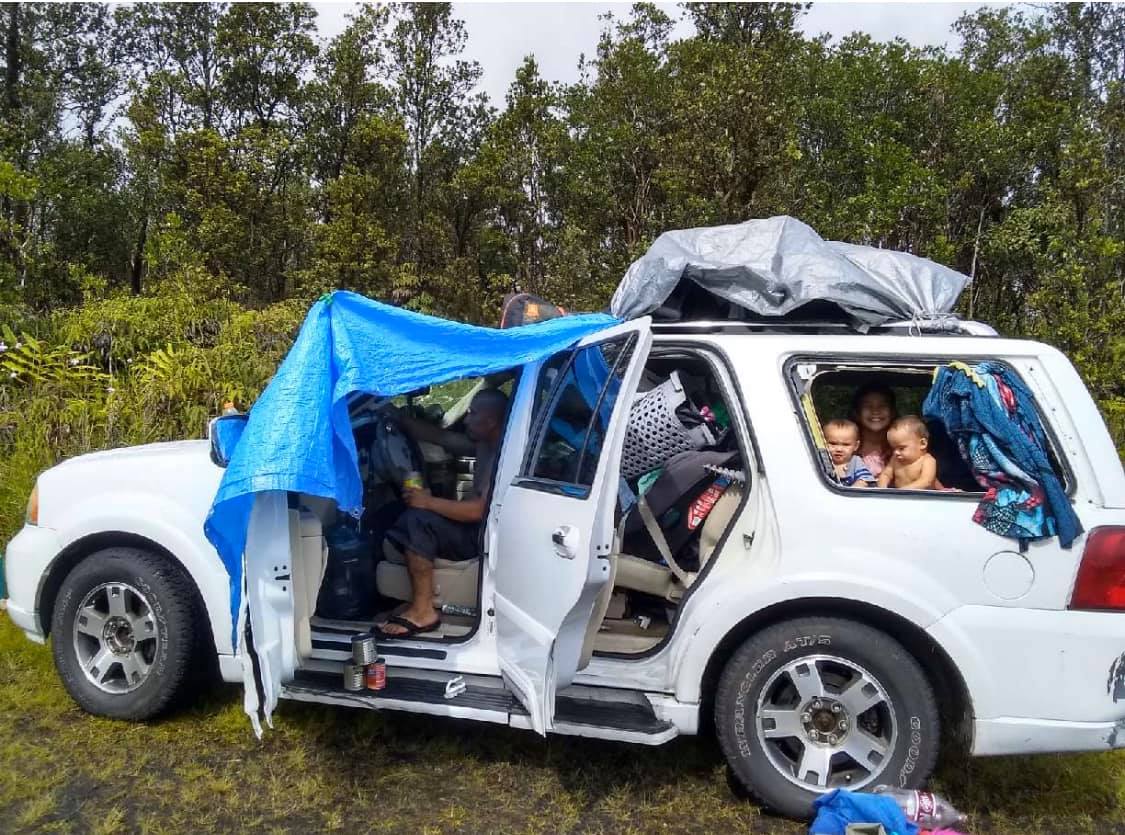 that is where we feel we can make the most positive impact we can for the benefit of the keiki. ​
---
How Does Project Hawai'i, Inc. find these children?
---
Project Hawai'i, Inc. volunteers conduct monthly outreach to not only ensure our current homeless keiki are provided for, but to also seek out new homeless families. This means we go into the bushes, up in the mountains and other areas that might be "perfect" for families to pitch a tent. It used to be so much easier when the 10 miles of the Wai'anae Coast was filled with tents...but now we have to search them out. We do provide island wide outreach, but our primary locations on O'ahu are West O'ahu, Aiea, Kapolei and Waimanalo We do provide island-wide services on Big Island as well. Since we have such a wonderful support system on Big Island, we no longer have to seek out the homeless, they come to us by the hundreds to our events. On Maui we conduct outreach and host events to allow the homeless children and families to have a hot meal, receive hygiene and life support near the areas of which they hide. Most of the children on Maui are living in cars. They tend to move quite often and are not able to set up a stable enviroment in a tent situation.
---
What does it mean when Project Hawai'i, Inc. says, "outreach"?
---
Outreach is our main way of keeping in touch with the homeless children already in our program, as well as locating new homeless keiki in desperate need of our support. Outreach helps us build the trust with the families that allow us to help their children grow and begin the process of escaping the cycle of homelessness. Outreach consists of our volunteers delivering hygiene, food, clothing, and emergency necessities to the children living in the bushes, cars, tents etc. Depending on the holiday or the season, we will also deliver other items and supportive care needs. Our outreach also includes the opportunity for the families to let us know what their needs are for success. We also are on call and will provide services as needed with in 24 hours Project Hawai'i, Inc., provides outreach at least twice a month. This program is dependent on the public support and resources provided by you for our keiki.
---
Why does Project Hawai'i, Inc. provide MEAL Gift cards and NOT FOOD BOXES?
---
Due to a few circumstances that our families face we have found it more beneficial to the families to have access to food, especially prepared food when they need it. Here are some of the main reasons:
Our families face cleansweeps so often. These state imposed evictions make it very difficult for families to take anything with them and most of their belongings end up in the garbage trucks. They will leave any food behind.
It is very difficult for families to cook or find places to eat or to prepare meals. Most families will just open the can and it as is. This is not a meal experience.
Many times when doing food collections over 50% of the donated items are not usable to the families due to their living situation.
Many of the food items will go back due to lack of proper storage, or attract bugs, rodents, etc.
WITH MEAL CARDS,
Families can easily have them in their back pockets, go through a drive thru to obtain a hot meal for the children, and children can use the cards with their friends after school or a their tent when parents are not always around.
---
What sets Project Hawai'i, Inc. apart from other nonprofits working with homeless children?
---
Aloha!! We are very unique and there is actually NO OTHER agency who focuses on unsheltered homeless children in an outreach situation on the islands of Hawai'i. Our founder, Magin Patrick, has a philosophy of finding the missing factors and fix it. Research the problems and find the solutions. One of the most unique features of our program is that fact we work one on one with each child and find their needs to reach their goals. Another amazing aspect of our program is we are fluid. We can see what is working and continue, see what isn't working and delete that program and as we find new needs to fill, we create programs to make the change. Our program can create custom programs that will not only benefit the child, but will change their path through life an create the opportunity for their success. This is seen through our wide array of programs tailored to the different age groups and if you follow us, you will see new programs being implemented quite often. Another unique factor that sets us apart is that our entire program is run by volunteers and we don't have to utilize a financial advisor to make sure we are utilizing the funding "minimum" to qualify for a nonprofit status. Many may not understand what this means, but the way the law is written, only 6% of total donations have to be used as a direct benefit or program needs. That leaves 94% of the donation open to use how the agency sees fit. For many nonprofits they actually have a person who tracks this to make sure they don't fall short of that percentage. At Project Hawai'i, Inc. 100% of YOUR DONATION benefits the program you select or if given as a general donation we utlize it in the program that needs the support at the time of the donation. 100%, not 10%, not 50%, not 99%, but 100% of your donation goes to the children's benefit.
---
How does Project Hawai'i, Inc. coordinate with other agencies to assure the children are recieving full benefits offered?
---
Project Hawai'i, Inc. is a unique program. We build relationships and provide year round programs with interactive programs. It takes a village to raise these children. It takes a community to meet all the needs. We stive to build the relationships with our clients and provide them with any resource we know of. This helps build their foundation towards success. We are a stable resource and supportive program for these families to belong to.
We are NOT a feeding program, so we do encourge our families to utilize such opportunities to obtain meals outside of our programs. We do encourage our families to go to soup kitchens if they can.
We are NOT a hand out program providing services such as many other agencies or churches do, such as clothing rummage or special events with free hand outs.
We are NOT a toy drive company that gives random toys, we provide the children with their Christmas wishes, full support of stockings, meals and other events/activities. This program is not duplicated, so we don't have to worry about that.
We do actually share the other agencies give aways or events with our clients and hope they can receive benefits from others in the community.
---
How does Project Hawai'i, Inc. measure their success?
---
Aloha, This is a very complicated question. It isn't as simple of just evaluating a programs success once it is finished, or monitoring the progress of a child throughout the year. Since every situations is different, every child is different and every outcome is different. We are not a cookie cutter solution and don't have a progress form that is completed to show what had been accomplished. Instead we measure our success through the child's success. The ultimate and ONLY real measure of success is when the child escapes their cycle of homelessness and doesn't return. We could make it seem simple and pretty, but saying. Example... Ashley spent her summer with us at camp. She was shy and could not read well. After the teen mentoring program and workshops she is now more confident, enrolled in a tutoring program and feeling good about her new school year. She has tried out for sports and is more active with her peers. This is definitely a success, definitely a step in the right direction. This would look like a win to any donor. However, we don't feel our responsibility or our kuleana is over, it is not a success, it is just a stepping stone, and like all stones, it can tumble... Now, if I were to tell you this child was in our program for 5 years, she then drops out of high school and has a baby at 16 and another at 17, would this be counted as a success? 5 years of amazing results, 5 years of our dedicated volunteers making a difference, 5 years of funding towards her needs, and now she just repeats the cycle. So, we like to look at our results and measure the success in the LONG RUN, the run that leads to their success... their success of escaping and breaking the cycle. We do show the impact of the programs results, we do update how many children benefited from a service project, an update of all the progress, sharing stories, etc... but success is measured at the finish line, not in the middle of the transformation process. Some say we are too hard on ourselves, some say we don't celebrate the small wins, we say we are here to save lives and that is our goal, that is our mission. We succeed when they succeed!!
---
---
How to Help
How does a donor or volunteer know if their contribution is making the difference?
---
Project Hawai'i Inc. is not a band-aid or quick fix. It is a process that allows the homeless children the opportunity to build self-esteem as well as life and social skills that will help them to escape their cycle of poverty. Our experience strongly supports that children do escape this cycle. Between the begining of Project Hawai'i, Inc. from 2003-2006 we worked with a homeless encampment with 75 homeless children living between 15 families. These famlies were 3rd and even 4th generation of being born into homelessness. Over these 3 years we were successful in assisting every family to gain the life and social skills needed to obtain jobs, secure housing, enroll in educational programs, etc. To date ... yes to date 100% of all these families are still housed, still working, some have degrees and career jobs and BEST OF ALL, the children who escaped this cycle are now having their own children in a HOUSE, never to know the feeling of living in a tent. In 2006 when we started our summer educational programs the results took over a decade to truly see the change, but here it is.... Teens go back to school and earn GED's, gain employment, attend college, and more. Children playing sports, joining clubs, not dropping out of school in the earlier ages, not having teen pregnancies and these children actually succeed. Since this is what WE CHOOSE to do, we too want the same success for these precious children as all of you. We are with them every step of the way and will continue to provide support as they transition into their new journey of living in a home. Your donation is used towards your choice of programs. You can see the difference you make through our stories on social media, in the community or by becoming involved as a hands on volunteer and watching the donations go towards the programs success. 100% of all public donations directly benefit the children or programs. We have corporate sponsors who assist with the behind the scenes and assure our program can continue to provide support to the children.
---
Does Project Hawai'i, Inc. accept used items, such as clothing, toys, etc?
---
No, we do not accept any used donations. Our purpose is to work one on one with every child's needs and we do not have the infrastructure to handle such donations. Many people do not understand the amount of work, time, manpower and storage it takes to opperate such a donation. We simply do not have the resources to utilize the donations effectively. Please choose from one of these agencies or find one located near you On O'ahu we partner with Habilitate for furnacture, household items, or adult clothing/supplies. This amazing nonprofit is also run by volunteers with a mission to help adults escape and heal from their drug, or other additions. For children items please reach out, and we can direct you the the current list of needs with other partners. On Big Island ~ Kona we suggest donating to the Treasure Hut Thrift Store. They donate back to the community and even allow some of our clients to shop free as referral based. On Maui, we partner with Share Your Mana, however, she too has limited space, but does conduct outreach to the adults and has daily connections in the homeless populations.
---
What does Project Hawai'i, Inc. offer in exchange for my company/group donation?
---
Project Hawai'i, Inc. offers many amazing opportunities for our partner agencies, small businesses who support us, groups, companies, etc. Because we are run 100% by public donations, your donations make the difference. We offer the following in exchange for your tax deductible contribution.
A tax deductible donation letter
A thank you card and photos of the children you provided service to
An update or review of what was accomplished with your donation
Shout outs of thanks on our social media platforms along with tags and logos
Higher donation levels have website presents along with links, photos and stories
We even have options to sponsor a dorm room for a homeless college student with the company plaques over the door, or placed in other areas of the dormitory.
Since every business donor is unique and opportunities are different, we are very open and active with their advertising needs. For example some of our partnerships have had us make videos of the companies support, or we have hosted events, or participation at the events with personal appearances, etc.
---
What Fundraising Opportunities does Project Hawai'i, Inc. provide for the community to support?
---
We have several easy ways to fundraise for our programs. Some of the most popular programs are fundraising for meals, for hygiene, holidays or even our teen programs.
Project Hawai'i, Inc. is happy to set up a goal chart and fundraising page designated for your collection and fundraising needs. This makes it simple to share on social media, newsletters, or text messaging to share your efforts and host a wonderful event. We assist with your goals and help you decide some of the categories to fundraise for.
We are listed on FACEBOOK as a charity and you can create a fundraiser on your own for our agency without much effort. This is great for birthday celebrations, or holiday events. 100% of all the donations on Facebook are directly given to the nonprofit without fees... great way to support.
Hosting an in person event at your place of work, group, etc is also a great way to spread awareness and allow the team to participate in the success of our programs.
Company events are also perfect ways of making a difference and allowing for extra promotions for the company. Such things as silent auctions, team building events, bowling events, runs, etc.
Independent Reps with MLM is also a great opportunity to share our mission and have more people involved with building your business. It is a proven fact that people buy more and invite friends to participate in fundraising events, vs. just placing an order. Many people will try your product just to support the cause and then become a full time customer or even a representative
Birthday Party fundraising is also a fun way anyone can be involved with. A great way to celebrate your birthday by honoring a homeless child. This is a great way to have others join the efforts for their birthday as well.
Own a Shop or Retail/Open to the public establishement?? This is a great opportunity to set up a kokua can (collection can) to allow customers to leave their donations or make a donation on the spot. The benefit to this actually amazing. Your company can claim this as your annual contribution on your end as well. I am sure everyone sees the annual reports of major stores that have collection coin cans at their establishment... they claim they donated x amount and in reality they colleted x amount. the loop holes for big busimess are availble to everyone if you are aware.
Connect with us, share your goals and we will get you started.
---
---
Statistics of Homeless Keiki in Hawaii
How many Homeless Children are in Hawai'i?
---
First, "Homelessness" is documented as a person who does not have their own place to live with their own means. For example, a child living with grandparents that are not their legal gaurdian is considered homeless, or a family who lives temporary with another family is considered homeless, etc. In the state of Hawai'i across the islands there are an average of 23,000 homeless children. Second, Unsheltered children, those living on the streets or in tents, cars, etc., is estimated to be 4,600. Project Hawai'i, Inc. is providing services on the islands of Maui, O'ahu or Big Island with an estimated 1,600 children annually.
---
What is the Average age of a Homeless PERSON?
---
The average age of a homeless person living unsheltered is 5 years old! Yes, 5 years old.
---
Percentages of Homelessness in Hawai'i
---
47% of the homeless population is in shelteres or substandard housing 53% of homeless population is on the streets, in cars, or on the beaches. 40% of the homeless are families with children 46 out of 10,000 people are homeless in Hawaii
---
How many Hawaiian Kanaka are homeless?
---
22% of the homeless population are Hawaiian 22% of the homeless population are Samoan 17% of the homeless population are Micronesian 11% of the homeless population are Filipino 29% are of mixed race
---
How many homeless people die on the streets annually
---
It is reported that over 360 homeless people die on the streets while being homeless. This does not include those who die under doctors care in the emergency room, or in a home. This is on the streets unattended.
---
---